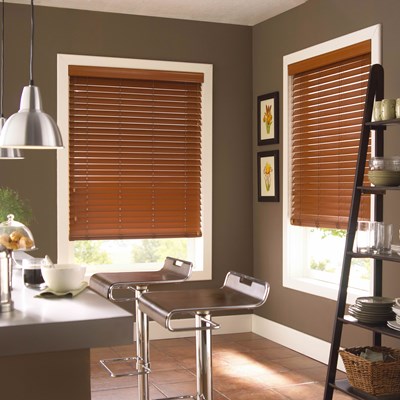 2" Faux Wood Economy Blinds
Brand:
Blinds.ca
Our Economy 2" Faux Wood Blinds are a great choice if you are looking for an inexpensive faux wood blind.
Read More
.
SureFit™ Guaranteed to Fit!
Normally made in

16

business days
Change size below to see your price
Product Details
Description
Our Economy 2" Faux Wood Blinds are a great choice if you are looking for an inexpensive faux wood blind. While the options are more limited compared to our other 2" faux wood blinds, you won't sacrifice quality with the Economy 2" Faux Wood—you'll just pay less and get remarkable savings. The slats are available in 5 colors. Routeless (no-holes) option is standard for increased privacy and light control. You'll even get a decorative valance at no extra charge. Available as cord tilt only—with standard controls (cord lift on the right and cord tilt on the left).
Helpful hint: faux wood blinds are heavier than wood blinds. If you plan to raise and lower these often, consider wood blinds as an alternative.
Surefit™ Guarantee
Your windows deserve perfect fitting window treatments, so check out our easy measuring guides to ensure that you take the right measurements the first time. However, we know that mistakes happen and we've got you covered! Should your measurements be off, we'll help you measure again and remake your order - for free! If the change in size increases your product's cost, we'll only charge you for the difference.
Policy is unlimited for color issues (when sample is ordered) and quality issues. Policy covers up to 6 mismeasured products. Contact our customer service within 30 calendar days of receipt of product to qualify for these guarantees.
Because our products are custom made just for you, we cannot offer cash returns.
Standard Blind Specifications
Minimum Width: 18"
Maximum Width: 72"
Minimum Height: 10"
Maximum Height: 72"
Approximate Inside Mount Deduction: 1/2"
Made in: China, Finished in Canada
Mounting Requirements
Minimum Inside Mount Depth:
1 1/2"
Minimum Inside Mount Depth (fully recessed): 3"
Minimum Outside Mounting Surface: 1 1/2"
Standard Options:
Controls are only available as Cord Tilt Left/Cord Lift Right
Comes standard with matching valance.